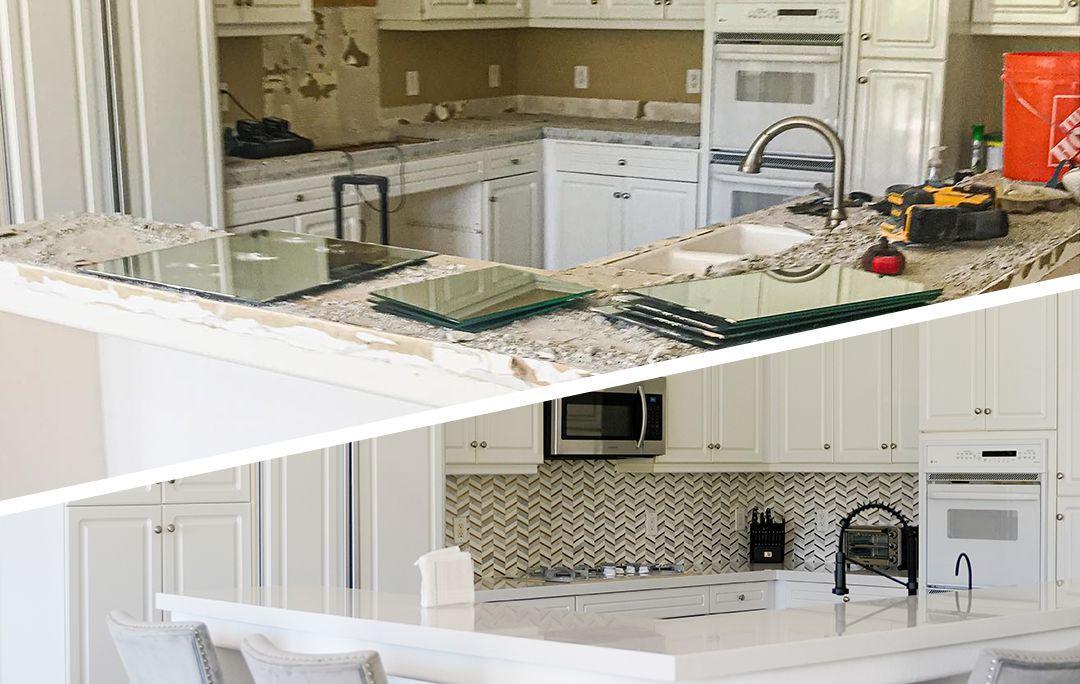 Completed Remodeling Projects
Squared Construction has successfully completed home remodeling services in Palm Springs, Cathedral City, Palm Desert, Indio, Coachella, Thermal, Indian Wells, La Quinta, and nearby.
We are licensed, bonded, and insured as a general contractor in the state of California. View our completed projects below.
We hope your project will be our next!
Kitchen, Bathroom, and Bar Remodeling Project in La Quinta at PGA West
One of our favorite remodeling projects yet was a kitchen, bathroom, and bar remodel we had the opportunity to perform in La Quinta, CA.
Natural tones are still very popular but this project proves that white is still quite alright! The white walls, cabinets, and appliances really make the unique backsplash pop in this kitchen.
The bathroom uses the same color scheme as the kitchen, with white cabinets and a white bathtub. The light grey wood flooring really sets everything off and ties it all together for a cohesive look.
In the bar area, we added some contrast and interest by using a polished black countertop.
We sincerely hope you love this project as much as we do and we would love to have the opportunity to perform a similar remodel at your home in Riverside County.
Pool House Addition Project in Palm Springs
We added an extra bedroom and bathroom in the form of a pool house at this residential home in Palm Springs. Talk about a value-adding remodeling project!
As you can see from the photographs of this pool house addition, the new structure matches the existing home perfectly. The color of the paint is exactly the same and so is everything else, including the texture of the exterior wall, to the styling and slant of the roof.
Possibly our favorite part of this project was our client's choice of tiles and color in the shower. Most people prefer white subway tile but we think the black subway tile really works here and since it was run vertically instead of horizontally, it really gives it a unique look.
Kitchen Remodeling Project in Palm Desert
In vast contrast to our first kitchen remodel project we shared where the client opted for a white kitchen, at this kitchen remodel in Palm Desert, our client wanted to go with a darker color scheme.
We think the rich stain on the cabinet faces looks very nice against the dark color of the cabinet's hardware, trim, and countertops. Stainless steel appliances were definitely the right choice to complement the rest of this kitchen's design.
The mirror-like backsplash helps brighten up this "darker than normal" kitchen. We are all for designing and building according to our clients' wants and desires!
Bathroom and Kitchen Remodeling Project in Rancho Mirage
This bathroom and kitchen remodel project in Rancho Mirage is a great example of a smaller remodeling project for us.
It proves small kitchens and bathrooms can still look great with the right materials and excellent craftsmanship by the installers.
Let's Make Your Remodeling Project Our Next!
From small-scale remodeling projects to larger and complex whole-home remodeling projects, we do them all at Squared Construction.
When you choose to work with Squared Construction on your home's remodel, you'll have the advantage of working with a flexible and knowledgeable contractor team that has proven to complete jobs on time, within budget, and to our client's satisfaction time after time.
Read Squared Construction's general contracting service client testimonials.